…Franziska, I realize that you criticize me for my odd hobbies, but… as they say, with this… I have you in flagrante delicto.

My oh my, what would Father think? This… foolish behavior is hardly befitting of a Von Karma, as you yourself have been wont to repeat.

…!

Miles Edgeworth… where did you so foolishly find those pictures…!?

It wasn't very hard. I simply had to call upon the services of… "the Google." (If that is indeed how it is said- it sounds quite odd.)

Franziska, you of all people should know… or should I say, "Fura-chan"?
…I thought that maybe… it would be healthy for me to take up one or two hobbies…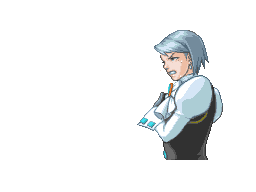 …at least this can be considered a veritable art, to some extent…